摘要:颜色词,在我们的日常生活中扮演着重要角色。正确使用颜色词,大大增强修辞效果,使语言生辉添色,在英汉两种语言中存在着大量的颜色词,这些词除了表示基本的颜色之外,还蕴含了丰富的感情色彩和文化内涵.本文以部分颜色词为例,分析了英汉颜色词汇的不同文化内涵。但由于中西方文化的不同,对颜色的理解也会有所差异。颜色词隐含着许多层意义,暗示着不同种族对颜色的感受。如果我们不深入了解中西方文化的差异,我们很难了解每一种颜色在不同国家的含义。本文对比分析了英汉基本颜色词的文化内涵,讨论了英汉颜色词内涵差异的原因并提出了颜色词的翻译方法。
关键词:颜色词;文化;内涵;翻译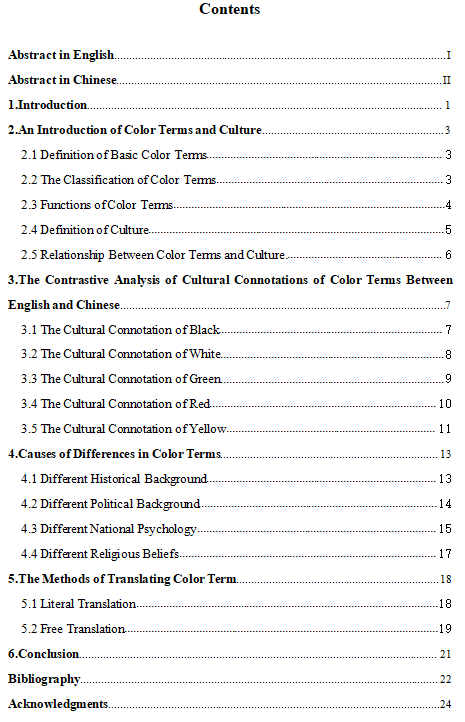 1.Introduction
Culture has existed in human society for a long time. The emergency of culture can be traced back about two million years ago, and the first shape of culture was from African. Since then human beings have spread throughout the world, adapting to widely differing environments, developing various cultural patterns for living. The many separate groups that have emerged around the globe may differ from each other, but also share many cultural features.
Language plays an important part in culture. For one thing, language is the foundation of culture, for another, language is influenced by culture, and it reflects the certain culture group. It is not only the representation of history and literary background of language is the reflection of social life. We are living in a colorful world, color is the indispensable part of our life, since if we live in a word without colors, it can be very tedious. According to Venuti (2001), color is a kind of visual phenomena, and it can deemed as the basic visual feature. It is not difficult to notice that color is objective. Even though the essence of color to nations is the same, the meaning and cultural image to the nation can be different.
The terms describing different colors are "color words". Bao Huinan (2004) points out that basically, colors can be divided into 11 types: red, yellow, white, black, green, blue, purple, brown, pink, orange, and gray. And this eleven types of colors can well describe most feelings and emotion. Color words is the sensory word, it can not only describe the colors, express ideological contents, but also can enhance language appeal. It seems that color is the most expressive language in the world. As Chinese and English are most widely used language in the word, it is very important to study cultural connotation and translation of colors in Chinese and English .
This paper is an exploration into cultural difference on translation of color words. This paper can be divided into six parts. At the beginning, the author introduces the background of the study ,structure of the paper and significance of study. The second part makes a brief introduction to basic concepts of color terms and culture.The third part makes a comparison of Chinese color words and English color words, and by giving examples. The second part will explain the causes of difference on cultural differences in color words. The third part will make a comparison of Chinese color words and English color words, and take some colors as examples. In the fifth part, the author makes an analysis of the translation strategies .
2.An Introduction of Color Terms and Culture
2.1 Definition of Basic Color Terms
In our daily life, color words are the common illustrations of the cultural differences in language use. In Chinese and English cultures, color words are in the same way influenced by cultures, and used widely in people's daily life. Color words contain a lot of deep meanings, and imply different ethnic feelings. If we do not take into account the impact of cultural differences, we are difficult to understand the implicit meanings of color words.
It is known us that color cognition is the most essential human cognitive categories.In terms of color perception people share a lot of similarities . as a reflection of language, although a many of language expression of color are distinguished, the expression of the basic vocabulary of color among many languages, such as black, white, red, yellow, green, blue, are the same and very consistent.Due to the commonness of the language, some color words may have the same meaning in two specific cultures.
2.2 The Classification of Color Terms
According to Feng Shaofen (2002), color words can be divided into two types: basic color terms and object color terms. Basic color terms refers to describe the appearance color of objects, while object color means describe the indication of the color of objects.
The color words in both English and Chinese can be divided into two basic color words, but the number and classification of basic color words in English and Chinese are not the same. Linguists Berlin and Kay has made an investigation of 98 languages, and a detailed study of 20 of them. This research reveals that there are 11 basic color terms in English, including: red, yellow, white, black, green, blue, purple, brown, pink, orange, and gray. These words in Chinese can be found in the corresponding words: 红, 白, 黑, 绿, 蓝, 黑 , 粉, 橙 and 灰. However, the basic color words in Chinese are not the same as English language. For example, we often connect color with the rainbow, 赤 (red), orange, yellow, green, cyan, blue, purple. Apart from it, the concise dictionary lists six basic color terms: white, black, red, green, yellow, and blue.
Another types of color words called objective color words. They are also called real color words. Such words already exist in nature with the original meanings that mostly indicate the names of objects. They are easily to make people think of the colors of the objects. Gradually, the words describing the objects become into the color words which are become one class of colors words. For example, "silver"(银色), "cherry"(樱桃红), "bronze"(古铜色), "emerald"(祖母绿), "ruby"(宝石红), "jade"(翡翠色), "chocolate"(巧克力色), "coffee"(咖啡色), and so on.
Emotional color words. From ancient times, color words have closely linked with emotions. They can stand for different emotions and moods; and people can express the deep meaning skillfully through color words. Hence, these emotional color words are not only widely used in literary works, but also in daily life, and other fields. It is worth noting that the same color words have different meanings due to different cultures from different countries. In the west countries, red will make people feel bloody and violent, so "red activities" refers to radical movements. But in China, people like red which can stand for excitement and joy. They use "红榜" to represent the glory and honor, and "红双喜"to show the happiness of newly-married couple.
2.3 Functions of Color Terms
As the qualifying phrases, revealing the visual features of the objective world is the most direct function of color words. Yet everything has deeper meaning, thence it is necessary to grasp functions of color words, and it will be very helpful in translation.In this part, it will talk about the functions which include the descriptive function and the symbolic function.
Color words have a strong descriptive effect. Since ancient times, they have been used as the important means of description. Color words are always used to decorate the nouns, and make the description of the object more real, vivid in the daily life. It is the basic function of color words. Descriptive function means using colors to interpret the things. For example, in order to express the color of the sky, people will say "The blue is so blue!". In this phrase, the word blue is to represent the color of sky. As to symbolic meaning, it refers to the metaphor of the meaning of colors. For example, when people say "I am in blue mood", it does not mean the color of people's heart is blue, but it means he is in bad mood.
Besides the function mentioned above, color items have another important function, that is, the symbolic implications which can leave room for people to image the deep-seated conception. Color influences the spirit directly. Human beings' spirit reflects different contents by virtue of prolific living habits and cultural backgrounds, so that color words have the function to embody more meanings. So in daily conversations, different associative meanings of the synonyms may give rise to commutative barrier, and even lead to communicative disaster.
2.4 Definition of Culture
Culture is the complex collection of experiences which condition daily life; it includes history, social structure, religion, traditional customs and everyday usage. Culture is an evasive as well as a comprehensive concept, and an all-encompassing form or pattern for living. What people do, how they act, and how they live and communicate are all responses to their culture. Since we human beings live in the same material world, people all over it do have a great number of things in common. That makes our communication possible with people from various cultures. Since culture is defined as "the total way of life of a people", nothing is of greater importance than the language through which its beliefs are expressed and transmitted and by which most interactions of its members take place. In fact, language plays such a vital role in culture that some social scientists consider it the keystone of culture. Without language, they maintain, culture would not be possible.
2.5 Relationship Between Color Terms and Culture.
Our natural world is all the colors of the rainbow. Color has produced an given impression in person's mind, and then lead to some specific associated, at last arouse peculiar reaction, this is called color's society connotation. The conception of color can be found almost in any language, but the different culture endowed color for different culture connotation, the difference of West and Chinese culture will always given one certain color in two or more different symbolized significances. There are a lot of color words reflect different culture mentality and emotion hue in Chinese language and English language. Chinese language has rich and colorful color words since ancient times. There are many color word can reflect West culture as well. Since there exist many difference in nation nature environment, society system,local customs and practices、cultural background between West and Chinese, its connotation significance either have similarity or different
From scientific definition, color is the vision phenomenon that caused by the object's emission,reflection or through regular light wave , it is a basic characteristic of eye vision. This definition of color is easy to be accepting by western because their feudalism was shorter and the modern times education and the science's popularize as well as the fast development. At the very start of culture, western paid a special attention to science rational education and discover of science method. Thus, it is often rather direct of color's symbolize significance in western culture, they generally use impersonality object 's definite color to symbolize some abstract culture meaning, so it is easier to get the language significance and logic evidence. After many years development, Chinese color connotation also have the same significance that like western, so, we could not only know the surface meaning of color, but also know the deeper connotation.