这是一篇英语毕业论文、毕业论文范文、也教大家毕业论文怎么写。关注牛博士论文网(www.211nbs.com),每日分享毕业论文范文,也提供毕业论文代写,代写毕业论文,代写硕士论文,论文发表,服务广大学子,帮助完成学业,顺利毕业!
Abstract: In order to improve the primary school oral English teaching quality, due to our country's requirements to carry out quality education, some primary schools begin to introduce foreign teachers to expand their teaching power. It not only creates a good oral English learning atmosphere for students, but also improves the status quo of primary school oral English teaching in China and brings forward advanced teaching concepts. The contribution of foreign teachers with the advantage to improve the quality of oral English classroom should be affirmed, but there are also problems in the foreign teachers' oral English classroom.
On the basis of studying and drawing lessons from the existing researches, this paper sums up the types and characteristics of English teaching methods for foreign teachers in primary school, the role and disadvantages of foreign teachers in primary school, and puts forward corresponding suggestions, to provide some inspiration and reference for the current primary school oral English teaching in China.
Keywords: foreign teachers; primary school; oral English teaching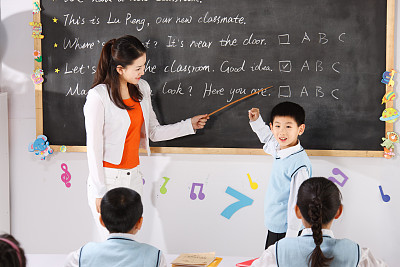 摘要:为提高小学英语口语的教学质量,应国家开展素质教育要求,部分小学着手引进外籍教师来扩充自己的教学力量。他们不仅为学生创造了良好的英语口语学习氛围,改善了我国小学英语口语教学的现状,也带来了先进的教学理念。外籍教师发挥自身优势为提升口语课堂质量所做出的贡献应该被肯定,然而外籍教师口语课堂中也存在一些问题。
本文在学习与借鉴已有研究的基础上,归纳出当前小学外籍教师英语教学方法的类型和特点,以及小学外籍老师英语口语教学的作用以及弊端,并提出相应的建议,以期给当前我国的小学英语口语教学提供一些启发和借鉴作用。
关键词:外籍教师;小学;英语口语教学
1. Introduction
1.1 Research Background
English is one of the most widely used languages ​​in the world. As the main media tool, English is used in international political dialogue, trade exchanges, and most of the world's information and technology dissemination. Learning and mastering English is one of the basic requirements for citizens in the 21st century.
Primary school is the enlightenment stage of students' English learning. The English subject has become an important subject in primary school. However, in the actual English teaching process, we found that most primary school English teaching pays too much attention to the explanation and teaching of language points, namely language knowledge such as words, phrases, and grammar, and ignores students' actual ability to use language. This has caused many primary school students to lose their enthusiasm for learning English, and has made it impossible for them to successfully communicate in English after learning English. Even when many students enter into college, their ability to speak English is still unsatisfactory. It is known as "dumb English". In order to change the predicament of "dumb English", some primary schools begin to pay attention to the practical functions of English teaching and introduce foreign teachers to expand their teaching power. Foreign teachers with different cultural backgrounds have added new vitality to the school. Their classroom teaching methods have also brought different experiences to Chinese students, and have had a positive impact on the teaching of oral English in primary schools of China.
The definition of foreign English teachers of the State Council of China is that foreign nationals who are engaged in English education work in the country and whose native language is English. Foreign teachers and foreign managers should have bachelor degree or above and corresponding professional certificates, and have more than two years of experience in education and teaching. The study of foreign teachers' oral English teaching began in the 1990s. Most scholars agree that the increase in the number of foreign teachers has improved the current situation of spoken language teaching. The majority of students have experienced authentic oral English and have greatly helped second language acquisition (Davies 1991; Ellis: 1999). Lin Yaping (2016) believes that the primary classroom teaching methods of foreign English teachers ​​are mainly interactive game teaching methods, nursery rhymes teaching methods, situational experience teaching methods and whole body reaction teaching methods. Some scholars point out that foreign teachers' English teaching methods have the following characteristics: they are good at creating a pure English learning context for students, good at cultivating students' interest in learning, good at importing Western culture to cross-cultural education, and good at using a novel teaching model, attaching importance to the interaction between teachers and students and encouraging evaluations, and using a language rich in humor (Zhang Xiaopin 2012; Lin Yaping 2016). However, some scholars believe that there are some problems in foreign teachers' oral classes: Foreign teachers' lack of understanding of Chinese culture has led to improper teaching methods, lack of purpose and systematic teaching, arbitrariness in class, lack of understanding of Chinese students, and high or low estimate students' English ability (Mei Xiaojian, Cao Donghui 2010; Ma Dongling 2012). Therefore, many scholars have conducted comparative studies on the effect of Chinese and foreign oral classroom teaching and found that foreign teachers believe that the goal of spoken language teaching is first to stimulate students' interest and to make students perform more positively and cooperatively. In contrast, Chinese-speaking English teachers believe that oral English teaching should first allow students to master some oral vocabulary without context (Jin Min 2010; Lu Xi 2014). Therefore, balancing the teaching methods of Chinese and foreign teachers can become a turning point in English teaching.
1.2 Research Significance
Through the analysis of existing literature, the author finds that there are more studies on the teaching methods or roles of foreign English teachers in high schools and universities. The relevant research is more detailed and has certain operability. However, there is little research on elementary education at elementary school. Although the research results of senior high school students have some reference, the goal of English learning in senior high schools is far from the primary school. The requirements for each graded goal are different from those in primary school. The stage of English learning in primary schools is the foundational stage for students to accept learning. The quality of English teaching at this stage affects the cultivation of talented people. Therefore, it is worthwhile to study foreign teachers' teaching in this stage. The author summarizes the types and characteristics of English teaching methods of foreign teachers in primary schools, and reflects on English teaching in China. It further enriches and deepens researchers' understanding of the importance of foreign teachers, so that we can accurately understand the role of foreign teachers. But we cannot just agree with the teaching methods of foreign teachers, we should find the disadvantages of foreign teachers, and make up for weaknesses.
1.3 Research Content
The study of spoken language teaching methods is not only an objective but also a means. It is an important approach to theorizing and conceptualizing teaching behavior and teaching work. By summarizing the features of current oral English teaching methods of foreign teachers in primary schools, it not only can play a theoretical role for foreign teachers' English teaching, but also can provide theoretical guidance for the use of primary English native teachers' teaching methods. For this reason, this article includes the following five parts:
The first part mainly introduces the research significance, research background and research content of the article.
In the second part, on the basis of learning and drawing lessons from the existing research, it concludes that the primary classroom teaching methods for foreign English teachers in primary schools are mainly interactive game teaching methods, nursery rhymes teaching methods, situational experience teaching methods and whole body reaction teaching methods. And then sums up the four characteristics of primary school foreign teachers teaching methods: attaching importance to teacher-student interaction, attaching importance to Western cultural infiltration, humor teaching language and attention to encourage evaluation.
The third part expounds the active role and disadvantages of foreign teachers in elementary schools.
In the fourth part, on the basis of the analysis, some suggestions are given on the inadequacies of oral teaching for foreign teachers in primary schools.
In the final part, this paper proposes the role of foreign teachers in primary schools in primary school English teaching, and hope this study can provide some inspiration and reference for the current primary school oral English teaching in China.
2. Types and Characteristics of Oral English Teaching Methods of Foreign Teachers in Elementary School
In the elementary school stage, the English teaching method refers to the standards that the teachers and students in English teaching process meet in the "course standards", namely, language skills, language knowledge, emotional attitudes, learning strategies, and cultural awareness. It is the general name of the manner of action taken. It includes not only the method taught by the teacher but also the method of student learning. The application and selection of foreign teachers' teaching methods in the classroom largely determine the effect of the entire class. Therefore, it is extremely important to understand and summarize the types and characteristics of the English teaching methods commonly used by foreign teachers in the classroom.
2.1 Types of Oral English Teaching Methods Used by Foreign Teachers
2.1.1 Interactive Game Teaching Method
In English teaching, interactive teaching of games is a very effective teaching method and means. The game interactive teaching method refers to the teacher as far as possible to change the monotonous language teaching form into a lively and interesting game form that the students are willing to accept in the process of teaching so that students can learn from playing. It enables students to actively participate in the classroom, and helps students better consolidate the text, familiar with new words, and practice language skills.
The game teaching methods of foreign teachers in primary school are mainly as follows: English basic knowledge games such as hanging game, crossword puzzle, flash cards, magic eyes, round robin; English basic skill games; rap songs; hands-on operations and short sentences performance.
English exercises and games in foreign teachers' English classes are rich and varied. These game teaching are mainly used to teach primary school students English language knowledge. Foreign teachers use a variety of games to inspire students' interest and enthusiasm in learning basic language knowledge such as pronunciation, vocabulary and grammar. For example, when Dave, a foreign teacher of A training institution, taught the basic pronunciation of the common vowels (a, e, i, o, u) in words, he said that he used his own game called "round robin", the words to learn were written on the whiteboard and each student reads the words. Then he used the stopwatch to calculate which student reads the fastest and writes the time when they finish the word next to the name. If you read it incorrectly, he will promptly correct it, so time will increase. This kind of competitive game makes pronunciation teaching more interesting.
In addition, rap songs in game teaching can develop students' musical intelligence, hands-on operation and short drama performances can develop students' physical movement intelligence, group cooperation and communication can develop students' interpersonal intelligence, self-evaluation can develop students' self-aware intelligence, and different activities can develop students' natural observation intelligence.
2.1.2 Nursery Rhymes and Rap Song Teaching Method
The nursery rhymes and rap song teaching method refers to a teaching method combining music and language, which can effectively stimulate primary school students' interest in learning. The nursery rhymes and rap song teaching method means that in the English class, teachers organize English teaching, impart knowledge, break through knowledge difficulties, etc. through rhythmic music and lively rhythms and lively joyous songs.
English children's songs and nursery rhymes have the main characteristics of simple, liveliness, bright rhythm, catchy slogans, and concrete images. The catchy music songs, in the form of a combination of words, reinforce the word. After repeating these words for five to six times, the speed of music will be accelerated and the students will further enhance the fluency of the words in the sentences. The students' enthusiasm for learning is extremely high, the classroom atmosphere is very active, and the teaching effect is also very significant.
In the actual teaching, most songs come from classic English children's songs, but foreign teachers also have their own songs based on the content to create a clear sense of rhythm, to stimulate the interests and hobbies of students to learn, so that the student can get good enlightenment in the key period of language learning.
2.1.3 Scenario Experience Teaching Method
Scenario experience teaching means that English teachers use specific images or create certain condition to stimulate students' emotional experience according to teaching content (such as teaching of language knowledge points, etc.) in English class, and mobilize students' various senses, and put book contents with the actual situation and things, and then help students understand and master the learned language knowledge of textbook through meaningful scenario exercises, and improve English learning efficiency.
There are several methods used in the classroom scenario experience teaching of foreign teachers in primary school. Use humorous language to create scenarios: teachers use the vivid, rhythm, and humor of language to create certain situations; Use rich body languages to create scenarios: teachers use their eyes, teaching styles, gestures, postures, and moving positions to create scenes; Use visual aids to demonstrate situations: teachers use teaching charts, chalk, sticks, or self-made teaching aids such as models to teach; Use audio-visuals media to create scenarios: teachers use slides, movies, television, and video to teach in class; Use game stories to create scenarios: teachers create certain games of basic language knowledge or skill games based on certain teaching content and time; Use action shows to create scenes, such as "you guess, I play", "little skit", "role play" and so on.
2.1.4 Total Physical Response Teaching Method
Total Physical Response is a teaching method that links language and behavior and teaches foreign language through the body's extremities. The purpose is to train students' listening comprehension and preliminary oral English ability. Total physical response teaching method is a combination of physical interaction and vivid teaching. It allows children to understand English more intuitively, and also embodies the principle of learning from practicing.
Total physical response method of teaching meets the age characteristics of pupils: they are lively and active, and their attention is difficult to sustain. It can catch the attention of the students quickly into the learning atmosphere, and make them focus instantly, and also help students to fully enjoy their talents in a relaxed state. Under this teaching method, the students' roles are listeners and performers. The former requires students to listen to the teacher's instructions carefully, the latter requires them to feedback and perform from the teacher's speech.
In total physical response classroom of foreign teachers in primary school, the following methods are mainly used: the game mode, performance mode, drawing mode, competition mode, and dancing mode. For example, when teaching "What are you doing?" in the sentence of New Standard English, the use of performances and games is the first way to perceive and learn sentence patterns, through a two-person "you guess I show" to mobilize the whole body's senses of the students. In order to allow every student to practice the sentence pattern, the foreign teachers ask the students to use the colorful brush to draw what they are doing on their own drawing paper. Then the teachers ask the student to ask "What are you doing?" The students give various answers based on their own drawings, such as "I am playing the violin." "I am watching TV" and "I am dancing." This form of painting not only allows students to put their own rational imagination in the painting, but also allows the internalization of new knowledge to be quickly internalized.
2.2 Characteristics of Oral English Teaching Methods for Foreign Teachers
The characteristics of English teaching methods for foreign teachers in primary schools are reflected in classroom communication, Western cultural knowledge penetration, teaching language, and teaching evaluation. These characteristics can further help us understand the advantages and effectiveness of foreign teachers' classroom teaching.
2.2.1 Pay Attention to the Interaction between Teachers and Students, and Keep Close to Students' Real Life
In classroom teaching, teachers often discuss and communicate with students in various ways, mainly to urge students to understand and use the target language. Classroom communication concerns whether students can understand the real use of language in context.
In the eyes of foreign teachers, allowing Chinese students to speak up and speak English is a very arduous task, let alone communicate and discuss with students. Because most Chinese students take into account the "face thing" when they open their mouths: Students think that if they answer wrongly, they will weaken their image in the classmate's heart and they will lose their faces. This makes many foreign teachers sometimes helpless. In order to allow students to speak, the foreign teacher thought of using simple and real communication with students. For example, the questions of foreign teachers in classroom warm-up communication are generally simple and easy, that foreign teachers called "Classroom Question", that is, simple questions or classroom problems. Life-based communication is a simple matter of date, season and weather.
2.2.2 Emphasize Western Cultural Infiltration and Broaden Students' International Perspectives
Foreign English teachers are good at importing Western cultural knowledge and infiltrating Western cultural knowledge. They compare Chinese and Western cultural differences to allow students to absorb and understand new culture. The penetration of these cross-cultural knowledge mainly includes the basic knowledge of English language and the introduction of important holidays and important markers of English-speaking countries. There are many ways to introduce cross-cultural knowledge. Sometimes students directly experience and practice it. For example, foreign teachers choose to play foreign language films or videos in the classroom. Foreign teachers make PPT in class to introduce their own experiences and share with students.
In the teaching of basic language knowledge, foreign teachers will also penetrate cross-cultural knowledge from vocabulary, pronunciation, and grammar. For example, in the time of phonetic teaching, the foreign churches allow students to appropriately touch different accents, such as American pronunciation, on the basis of mastering an English pronunciation, and lay a certain foundation for their ability to develop communicative competence. In vocabulary teaching, attention will also be paid to the introduction of vocabulary containing cultural connotations. For example, when the word "red" is spoken, foreign teachers say "I know red means happiness and goodness in China, right?" Students contend for the simple use of red in Chinese culture, and then foreign teachers introduce cross-cultural knowledge, introduce and supplement the meaning of red in Western culture to the students. It generally means bad in Western culture: dangerous signals or rebellions. Through cultural comparison, students are allowed to understand not only the superficial meanings of words but also their cultural connotations.
2.2.3 Teaching Language is Rich in Humor, Creating a Relaxed Learning Atmosphere
Unlike the restraints of local Chinese English teachers, there are often very humorous teaching languages ​​and behaviors in the classroom of foreign English teachers in primary schools. They value the use of emotional language and are more humorous about the use of emotional language. They use Western-style humor criticize students who do not concentrate on their work in the more awkward Chinese language or nicknames, often attracting laughter in the class.
Foreign teachers always try their best to create a relaxed and harmonious atmosphere in organizing classes. They are particularly good at mobilizing the enthusiasm of students and the atmosphere of active classrooms. For example, if the weather is fine, foreign teachers can lead students to outdoor speaking classes, sing a song for students, and then introduce the background of the song. In addition, role-playing, speeches, debates, singing and other interesting forms may also appear in the oral lessons of foreign teachers. This not only invigorates the atmosphere of the classroom, but also is entertaining. The student's learning effect is better than a serious class. In short, foreign teachers' oral classes can reflect the people-centered concept.
2.2.4 Focusing on Encouraging Assessments, Easy to Treat the Grammar of Students
Teachers' encouragement and praise can help students build self-confidence and motivate students. If students make progress in their studies, students will look forward to receiving teachers' recognition and praise. In this case, teachers will give them recognition and praise. They will be more active.
When assessing students, English teachers in China tend to use a single language, sometimes even directly neglecting students, forgetting to give feedback, and sometimes interrupting students' ideas in order to pursue the correctness of a sentence or the only standard answer. This practice often dampens students' enthusiasm for speaking English, and makes students afraid of making mistakes and can't speak up. In the class of foreign language teaching in primary schools, the evaluation of foreign teachers is based on affirmation and motivation. After students answer the questions, they will give students positive feedback with very rich language and body movements. When faced with student mistakes, they often adopt a loose approach and are not demanding to correct students' language errors. Even if the students answered incorrectly and the grammar of sentences was not accurate enough, foreign teachers would not immediately interrupt, but would allow the students to continue speaking.
For example, foreign teachers often praise the students in class. When students respond well, they say "very good" with a thumbs-up; if the student guesses the answer, the foreign teachers often say "You are right"; For the timid student, the foreign teacher will touch his head and give encouragement "Don't be shy, just try!"; If students do not concentrate on class, the teacher will also use a serious eye to remind students listen carefully.
3. The Positive and Negative Impact of Foreign Teachers in Oral English Teaching in Primary Schools
The role of foreign teachers in oral English teaching in primary schools can be seen from two perspectives: both positive and negative. The following are specific analysis.
3.1 The Positive Impact of Foreign Teachers in Oral English Teaching in Primary Schools
Under the influence of foreign teachers' English teaching, students' learning motivation and interest, classroom participation, and cross-cultural awareness have all improved. The relationship with teachers has also been improved.
3.1.1 Create Target Language Atmosphere, Reduce Student's Native Language Dependence
As we all know, the participation of foreign teachers in foreign language teaching in China can more or less create a target language atmosphere. Especially for those foreign teachers who do not understand Chinese or have poor Chinese language, the target language has become the only means of communication between them and students. In the oral classroom of foreign teachers, students can only use their target language to do their best, which can effectively reduce the students' native language dependencies when using language, so as to better practice the target language and improve the teaching effect of the spoken language in classroom.
3.1.2 Use Authentic Language and Rich Vocabulary
If you want to improve your spoken English, you need to hear more. The authentic language, relaxed atmosphere, rich vocabulary, and real situation are the characteristics of foreign teachers' oral English classes, and they are also advantages in their English teaching. The foreign teachers can use the authentic English, organize classroom activities, and communicate with students in the spoken language class to help students gradually acquire the target language. In addition, the vocabulary used by foreign teachers is far more abundant than that of local teachers. This can also expand students' oral vocabulary accumulation from the side.
3.1.3 Increase in Students' Learning Motivation and Interest and Promotion of Class Participation
Learning motivation and interest are important factors for effective learning. They can actively guide students to pursue learning step by step and relentlessly. The motivation and interest of students are mainly derived from humorous words and rich nonverbal behaviors in foreign teachers' classes. An inadvertent movement in the foreign teacher's classroom can arouse the students' attention and amuse the students, thereby stimulating the students' motivation and interest in learning. Besides that, the motivation and interests of students are mainly derived from teaching activities in foreign teachers' classes such as word games, group competitions, role plays, etc.; as well as the extension of cross-cultural knowledge, foreign teachers may have Western cultural knowledge in appropriate articles, such as the famous architecture, snacks and festivals in the United States, which will enable students to feel the differences in the world in a limited classroom. In this way, their interest and motivation in learning English have been inspired.
Student's participation in classroom teaching is a quantitative measure of student's classroom teaching participation. In the foreign teacher's classroom, their flexible arrangement of various teaching methods is an important factor to fully mobilize the students' learning initiative and improve their classroom participation. For example, game teaching methods, ballad teaching methods, and group games all make the classroom atmosphere lively and lively. However, sometimes the authentic words and sentences used in foreign teachers' classes are sometimes the factors that weaken the participation of students in the classroom. Their incomprehensible terminology in the penetration of cultural knowledge sometimes makes students confused.
3.1.4 Background Teaching and Cultural Heritage
Getting along with foreign teachers is a good opportunity to understand Western culture because they are a living cultural carrier. From them, students can learn about the habits of the people living in the target language countries, the style of affairs, and social values. In the classroom, they compare the similarities and differences between Chinese and foreign cultures. The introduction of foreign food, architecture and festivals is the source of students' acceptance of foreign cultural knowledge.
Foreign teachers will have an infiltration of English cultural knowledge in class. They will expand the content of cultural knowledge based on textbooks and real situations. The development and introduction of Western traditional festivals is an important way for foreign teachers to infiltrate cultural knowledge. In typical festivals such as Christmas, Easter, Halloween, and Thanksgiving, foreign teachers often organize students to participate in activities to have fun, and these activities are the best way for students to acquire cross-cultural knowledge.
3.2 The Negative Impact of Foreign Teachers in Oral English Teaching in Primary Schools
Although foreign teachers have an advantage that cannot be ignored in oral English teaching, this does not mean that the foreign language teaching of foreign teachers is seamless. Since most foreign teachers do not know much about English teaching in China, there are still many problems that need to be solved in their oral English teaching.
3.2.1 Incomplete Understanding of Teaching Objectives
There is a huge difference between China's education system and Western education system. China's education concept advocates obvious goals and has a strong teaching goal. Teachers are the dominant in the classroom, but the Western education is different. Western education emphasizes self-learning and inquiry, encourages students to ask challenging questions, and is happy to discuss issues with students. Since foreign teachers do not know much about the language level of Chinese students, they tend to estimate students' English proficiency too high or too low. Students' speeches will be tense. In the end, the teachers spent most time on speaking and students have less opportunities to speak and the level cannot be effectively improved. Foreign teacher's lack of understanding of Chinese culture, China's national conditions and education system directly affects the classroom teaching effect of foreign teachers.
At present, the problem commonly reflected by foreign teachers engaged in English teaching in China is that they do not understand the goals of oral teaching in domestic schools and the teaching purpose is not clear. The consequence of this is that the content of foreign teachers' oral teaching is arbitrary and the teaching lacks directionality and guidance. This can easily lead students to study without purpose and influence teaching and learning.
3.2.2 Not Suitable for the Teaching Environment
The teaching environment in China is very different from the Western teaching environment. Due to the large population in China, the classroom scale is large and the number of people is high. Foreign teachers who are accustomed to teaching in small classes are often difficult to adapt to the spoken English teaching environment in China, and it is difficult for them to take into account all students. Foreign teachers are more helpless to the current spoken language teaching environment.
3.2.3 Lack of Extracurricular Communication between Teachers and Students
Teacher-student exchanges are the main ways for teachers to understand student issues and promote teacher-student relationships. Due to cultural differences and language barriers, most foreign teachers rarely exchange ideas with their own students outside of the oral classroom. Therefore, they do not fully understand students' problems in spoken English.
3.2.4 Lack of Systematic Teaching Materials and Purpose in Class
Since most foreign schools do not provide for the use of designated teaching materials, their teaching materials are usually designated by the teacher. In addition, English textbooks lack a sense of the times, and foreign teachers believe that English textbooks have a certain degree of lag. Therefore, foreign teachers will basically abandon the teaching materials sent down to organize their own teaching. However, because Chinese students are accustomed to relying on fixed textbooks, they are more concerned about the schedule and progress of the courses. The existing foreign teachers, because their own conditions are limited, the organization of teaching materials is not systematic enough, the purpose of teaching is not clear and the arbitrariness of classes is large. So Chinese students often feel that learning is not important. Some foreign teachers even put movies for students, and then organize them to discuss the theme of the movie. They don't care whether the students read or like it. The final form of examination is also simple. It is only the playing and dialogue of roles among students that does not reflect the actual level of students.
4. Suggestions for Oral English Teaching of Foreign Teachers in Primary Schools
In view of the shortcomings of foreign teachers in primary schools in the teaching of oral English, some practical and effective countermeasures are proposed below.
4.1 Do Pre-Job Training
Let foreign teachers understand China's national conditions, the current state of Chinese education, and the characteristics of Chinese students. Prior to taking up posts, the training of foreign teachers can help them understand the actual situation of teaching, adapt to local conditions, and more accurately position their own roles.
4.2 Rational Planning of Teaching Materials and Teaching
At the beginning of each new semester, if the foreign teachers do not apply the textbooks prescribed by the school, they should work out a syllabus and plan for the curriculum and submit them to the relevant departments of the school in order to obtain relevant suggestions. The compendium prepared should also have the same assessment content as the textbook. Each lesson should be written in the same way as a Chinese teacher, stating the teaching objectives, teaching content, and summary of the lesson. It is worth noting that the students should be informed of the contents of the final assessment in advance, so that they focus on the study of the semester. In addition, students' opinions should also be solicited to continuously modify and perfect the course teaching plan.
4.3 Strengthen Teaching Management
When signing contracts with foreign teachers, schools should let them understand their rights and obligations, ensure that they implement the rules and regulations, and abide by teaching standards. Otherwise, they will be punished according to school regulations. In this way, foreign teachers will be able to correct their teaching attitude and better cooperate with the school to carry out teaching work.
4.4 Create Opportunities, Strengthening Communication
While strengthening the management of foreign teachers, schools should also actively encourage foreign teachers to participate in English corners, teacher-student symposiums and other activities, and actively create exchange opportunities for foreign teachers and Chinese teachers and students so that everyone can understand each other better, and thus optimize teaching.
5. Conclusion
There are many favorable factors for hiring foreign teachers to teach oral English lessons in elementary schools. Foreign teachers introduced living language and live culture into the Chinese oral English classroom, creating a real language communication situation for Chinese students, thus enabling students to experience authentic English. The humorous teaching style of foreign teachers can also effectively improve the boring teaching materials and make up the lack of classroom atmosphere. However, in practical teaching, foreign teachers' English teaching methods also have many deficiencies, for example, the classroom is not rigorous and arbitrary, does not strictly abide by the syllabus and so on. In short, the successful experience of foreign teachers in oral English classes is worth learning by most of Chinese teachers.
Works Cited
[1] Christophersen, P., & McArthur T. Native Speaker. In T. McArthur, (Ed.), The Oxford Companion to the English Language. New York: Oxford University Press. 1992.
[2] Davies, A. The Native Speaker in Applied Linguistics [M]. Edinburgh University Press: Edinburgh. 1991.
[3] Ellis, Rod. Study of the Second Language-Acquisition. Shanghai: Shanghai Foreign Language Education Press. 1999.
[4] Harmer, J. How to Teach English. Beijing: Foreign Language Teaching and Research Press.2000.
[5] 马黎华,语言教学中的交互原理及应用,《浙江海洋学院学报》2005(4):59-61.
[6] 束定芳,语言与文化关系以及外语基础阶段教学中的文化导入问题,《外语界》1996(1):11-17.
[7] 林雅萍,小学外籍教师英语教学方法研究,湖南师范大学,2016.
[8] 张晓品,国内对外汉语教师与外籍英语教师教学方法的对比,云南大学,2012.
[9] 梅小健;曹东辉,浅析外籍教师的英语口语课堂教学,才智,2010(19).
[10] 金敏,中外英语教师口语课对比分析,考试周刊,2010(44).
[11] 马冬玲,高校外籍教师口语教学探索,英语广场(学术研究),2012(01).
[12] 姚达;罗玉枝,合肥市英语专业外籍教师口语教学研究现状,海外英语,2016(17).